This week's Beach School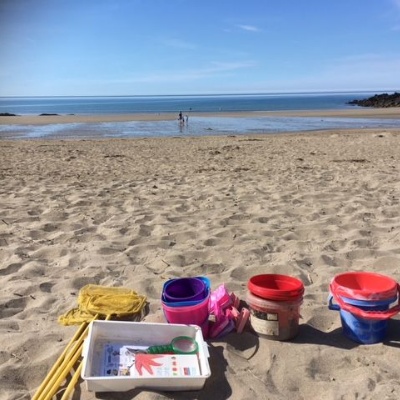 Science was a real focus for this week's Beach School. Our Rockpool Ramble ensured we not only identified sea creatures, but discussed their anatomy and how they have adapted to live in this changing environment.
The children identified snake locks anemone, crabs, limpets and looked at the difference between common topshells and painted topshells (although Araliya was already an expert on this front!). Charlie notices how the prawns and shrimps swam backwards and everyone marvelled at their camouflage. Children also carefully observed how the sea snails were making bubbles and discovered why they did so. Year 6 Charlie also managed to catch a green shore crab, but only after it had caught him on his big toe first!
Back in school, children used their experiences to write a descriptive piece about Mothecombe beach. This is the wonderful piece written by Luca:
Mothecombe Beach:
As I walk down the rocky lane, I see Mothecombe coming into view. The golden sand is as soft as silk. The bright blue sky reflects the cold shimmery sea. On the cliffs are lots of fields and trees that are fun to play in. When I play in the sea I only get cold after a long while.
The little abandoned hut in the corner is very old. The long, green grass tickles against my skin. The rocks are as sharp as knives, with lots of little creatures on it. Because the sun is shining, it is very hot.
Mothecombe is very special to me.
View all our Beach School photos here: