First Beach School of the Year.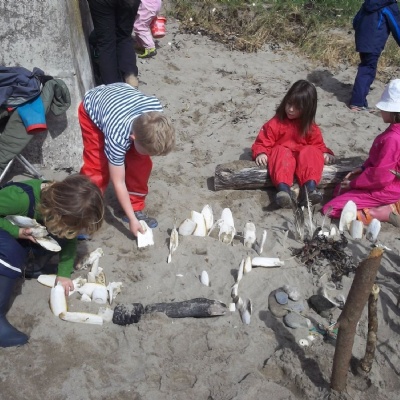 With Spring very much in the air, our children enjoyed their first Beach School session of the year.
The weather was certainly kind to us as we walked down to beautiful Mothecombe beach, part of the Flete estate.
At first, the children learned about the limpets in the rockpools and how they feed on tiny organisms that wash in with the tides. They collected tiny plastic beads and learned how they were causing such damage to the marine wildlife. This really enhanced the work that the Eco Warriors have been doing with their war against plastic. The second theme of the day was museum collections. The children were divided into groups and sent to scavenge the high water line for debris brought in on the tide. A recent storm had ensured a fresh supply of driftwood and cuttlefish skeletons, but there was remarkably little plastic rubbish due to the daily beach cleaning by the Flete Estate. The children had to plan and construct a "museum", working out how to group different artefacts, which was a good deal more interesting than grouping different shaped symbols in a textbook. One group had constructed a floor plan of several rooms, with walls of sand and cuttlefish, bridges, access paths, towers and a flagpole. It was called the Heart Museum, as the central display was a piece of driftwood with two branches that looked like the two main large blood vessels. Different children from each group acted as curator, giving museum tours and explaining the exhibits displayed in each room. There was great variation in the imagination, ambition and execution of the childrens' museums, and they were all interested and engaged. So was it just a fun day at the beach or have these children learned valuable skills that they can use in everyday life? Of course they did! They all practised their skills of work planning, and execution without a written guide and of using available materials for construction, classification and display of artefacts. They also learned about teamwork, cooperation, persistence when initial attempts failed, and built their self-confidence and displayed impressive fluency in expressing ideas to an unfamiliar adult. Not to mention all the self care and safety tips they learned in helping build the fire to boil water for their hot chocolate! There is no doubt among educationalists about the value of the outdoor environment for engaging children in learning and gaining skills which simply cannot be achieved in the classroom. For more of our lovely photos, do look on Facebook and click here for the Gallery.