Holbeton Claim First in Devon Maths Contest!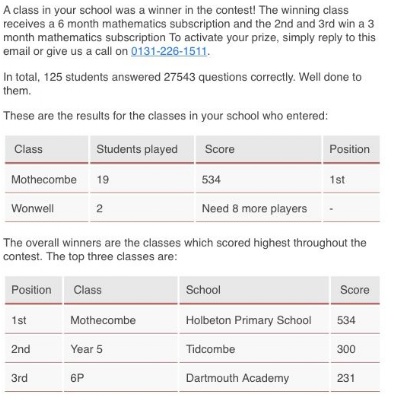 ...and the results are in!
Following the early success in trialling the website and app 'sumdog', we were delighted when we were invited to compete in a Devon wide contest for users of this mathematical software. Our aim, when signing up to this, was to improve our fluency and speed when answering questions (especially times tables!). The improvement has been rapid and the difference can already be seen in our learning in school.
As a result, we were quietly confident when entering a contest that rewarded the average amount of questions answered correctly over the course of a week.
We were delighted to learn on Friday morning we were VICTORIOUS in claiming the top prize, a six month subscription to access all of the premium features. A special mention must be made to our own Harry Godefroy who finished 4th in the individual table, narrowly missing out on a podium finish.
WELL DONE HOLBETON PRIMARY SCHOOL!!