World Books Day 2018!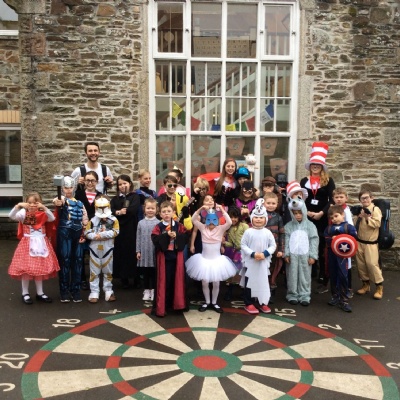 Following what was a long week of learning, you could have forgiven some for not getting up early and applying that last minute makeup or getting their hair just right to fit their character but that wasn't the case for the children at Holbeton!
Spirits were high and enthusiasm aplenty in what was an energetic day full of learning inspired by our favourite books and authors.
The day started with a whole school mixup involving everyone being put in to groups and asked to create a story that incorporated their characters. Needless to say, the groups featured combinations that even Hollywood's greatest directors would have been flummoxed by. Despite this, each group acted out stories full of ups and downs, trials and tribulations and twist and turns.
Following this, we enjoyed a variety of activities inspired by our books and characters before finishing the day with PE.
It was not just any PE lesson though. This was Holbeton's first game of quidditch. Due to the rain (and therefore the use of the village hall), flying broomstick were not permitted and therefore it was ground training for our teams. The interplay between Little Red Riding Hood, The Boy in a Dress and The Cat in the Hat deserves a special mention. Man of the match was Where's Wolly.
Overall, we had a brilliant day and the chance to revisit and share our favourite tales was something we all fully enjoyed.