Warburton Visit Holbeton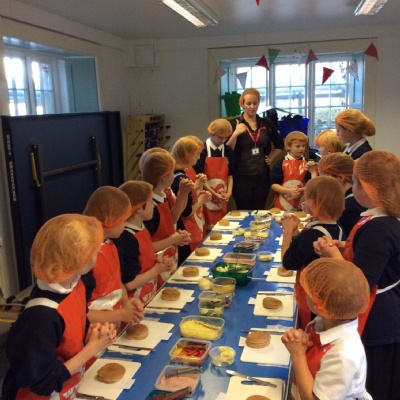 Holbeton really enjoyed our visit from Warburton's on Wednesday! We learnt about the history of the company- from a small family shop making bread by hand to the factory run business it is today.
We also got to do some tasting! We had to look at the bread, smell, it feel it, lick it and taste it. We tried some milk roll and some orange fruit bread. We all liked this bit!
Then we learnt about healthy food choices and talked about the foods we have for breakfast and why it is an important meal of the day.
Before Wonwell could make their bread, we had to think about the importance of keeping clean. We washed our hands, used special hand gel, put on aprons and wore special orange hair nets, which made us look very funny!
We got to squish and squash the bread dough into different shapes. The people from Warburton's showed us how to make it into different shapes, like a doughnut, a knot and a hedgehog. Lots of us decided to make the hedgehog- we had to use scissors to make the spikes!
Following Wonwell, Mothecombe class had the task of designing and creating sandwiches. We also were able to devour them at the end of the day!
Lottie from KS2 said, "everybody looked great in their hair nets, especially Mr Bowden!"
We all really enjoyed our visit and learnt lots of interesting things about bread. Please click here to see pictures of our busy day!