Mothecombe Class Rock the Rapids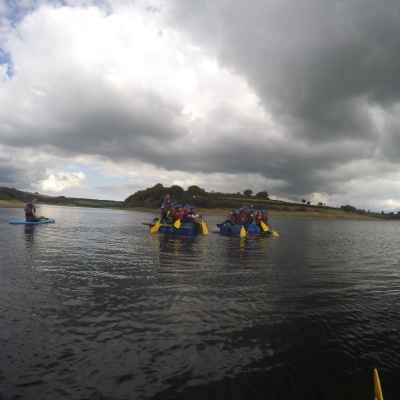 On Monday we departed to our first trip of the year, a two-hour drive landed us at 'Rock and Rapids' - an outdoors and water sport oriented centre. We wasted no time settling in and after a quick lunch went straight into tackling the assault course. The ups and downs were both physical and metaphorical as our class slipped off one obstacle only to quickly recover and conquer the next challenge. Following this we had enough time to try our hand at rock climbing. This was a real highlight for some with a few children reaching the dizzying heights at the summit! Monday evening was brought to a close with an evening trip down the zip line. Following this we slid into our beds in preparation for what was to be a packed day of water sports.
Tuesday came (earlier for some than others!) and the day promised much. It began with Mothecombe class being split in two and tasked with building and subsequently testing a raft on the lake. KS2's teamwork was put to the test as ropes were tied and barrels bound together and the result was two successful vessels that sailed the sea (lake) with ease. Following on from this, we tried our hand at canoeing. Each member of KS2 made the brave attempt to board one-another's canoe before heading back to land. Penultimately at the lake, those bold enough all went out on a giant stand up paddle board and leapt in what can best be described as a 'refreshing' temperature. The day was concluded with a barbeque around the campfire and roasted marshmallows for dessert, the perfect conclusion to a busy day.
Wednesday was our final day of the residential and we went out with a bang. Surfing was the order of the day and although there were a few crashes and splashes many of KS2 went away with a new found skill and hopefully something they will explore to a greater extent in the future.
Overall, we had a fantastic time on our trip. We learnt how to work more effectively with our peers, conquered new challenges and most importantly enjoyed ourselves taking part in a plethora of activities.