World Book Day 2020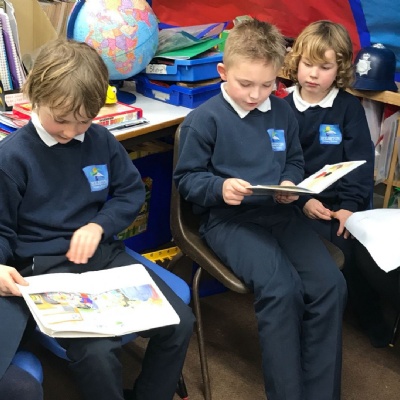 Next week is World Book Day. Since we love reading so much, we are celebrating by having a whole World Book WEEK! Here are some of the exciting activities planned:
The theme for this World Book Day is 'Share a Million Stories' so we will be doing this throughout the week with as much fun and interactivity as possible because the joy of reading is a lifelong passion.
As always, on World Book Day, children (and adults) will be invited to come to school dressed as characters from their favourite book. Every year, the children astound us with their creativity so we can't wait to share pictures of their fantastic costumes!
On the day, children have the option to have a Marvellous Mary Poppins themed lunch which will be 'practically perfect in every way.' A letter has already been sent home with the options for this, but if you haven't received it, contact Mrs Nash in the office and she'll send a new one to you. Menu choices must be returned by Friday, 28th.
On Wednesday afternoon, the children in the Foundation unit will be entertained by Marita from the Devon EAL Team. Marita is a Latvian story teller who will telling us some traditional Latvian folk stories and leading the children through a range of linked activities.
On Thursday morning, Bigfoot Arts Education will be entertaining children from Reception to Year 6 with 'The Wolf on Trial' - Everybody thinks they know the story of the 3 Little Pigs but has anyone ever stopped to hear what the Wolf has to say for himself? Is he really as big and BAD as they say or is that all just porky pies? The children will be invited for jury service for the trial of Alexander T Wolf as we unpick the evidence. (With thanks to your contributions to the HSA who are helping fund this.)
Book on a plate
Children will be challenged to represent a story using only pictures on a paper plate. We will then have a look at each other's drawings and see if we can guess the book. These plates will then be used to create a fantastic celebration of reading display in our library!
Story Masterclasses
Children will watch creative, inspiring and interactive films to get to get them really inspired by books. There's a key focus on reading for empathy and there are creative challenges set by amazing authors and illustrators such as Frank Cottrell-Boyce and Steven Lenton.
The Bumper Book Quiz
Children will form teams to take each other on in a literature-themed World Book Day quiz! There will be a quiz for KS1 and a quiz for KS2.
Jackanory
World Book Day will see the launch of our new
lunchtime club: Jackanory. Children will be invited to join a reader in the library to enjoy a short story or the start of an exciting book!
Book Share
Children will be asked to bring in their favourite book and will spend time sharing what their favourite book is and why to other members of the school. This will then extend to a Reading Buddies session where they could explore the other children's books further.
Not only do we have a plethora of activities throughout the week to get children excited about reading, we're also planning future events to extend this excitement, such as:
Book at Bed Time
As part of our excellent outdoor learning provision, Mrs Mitchell will lead separate reading events for EYFS, KS1 and KS2 around a campfire.
Blokes, Breakfast, Books
We'll be inviting members of the community in to share their favourite children's book with groups of children and inspire in them a love of reading. Watch out for more information on Facebook!
Midge the Reading dog
We are delighted to announce that Midge the Spaniel will now by attending Holbeton on a weekly basis. Midge loves being read to and the children will all get a chance over the coming weeks to read a book of their choice to Midge.
And, of course, we will be carrying on with our normal daily Book Talk sessions and weekly Buddy Reading sessions.