A sea of santa hats sprinted through the streets of Holbeton!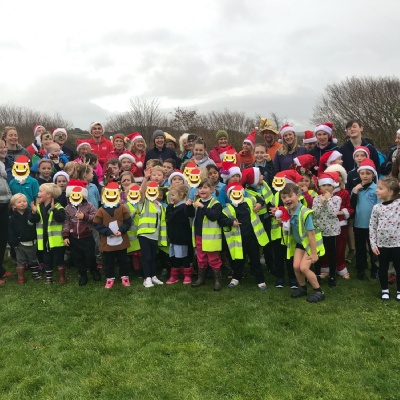 On Thursday, Holbeton Primary School were joined by the Holbeton Harriers, alumni and members of the community in an effort to raise money for a new jogging track.
We are well known for our love and embrace of outdoor learning and the benefits it has to our learning and development. On top of this, we also have a strong group of children that enjoy cross-country club (nearly half the school). Being a small school, cross country running is a little difficult on our grounds. It'd be more of an obstacle course - running up and down the stairs, through the adventure playground, avoiding balls in the football pitch!
Luckily, we can use the field nearby. We run from the school, up the lane and then run laps around the field. Sometimes, especially in winter, the field can be a bit mire so it is very important to us to get a track for jogging built.
Our fundraising run was a huge success; we managed to raise £100! The children were inspired by all of the people that came to help: Past pupils (including Will Battershill), Holbeton Harriers and their inspirational 'Couch to 5k' team.
Thank you so much to all of the people that made this possible.
Have a look at our gallery for more photos.