Fantastic Results for our Cross Country Club.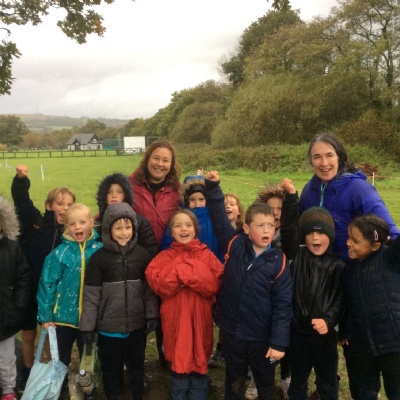 It was a wet and windy day, perfect for cross country (!) when the Holbeton Team headed off to the local Primary Cross Country Tournament held at Filham Park on Tuesday afternoon. With so many keen runners amongst our youngest children, Mrs. Rundle had received permission for some of our Year 2s to run in the Year 3/4 race. The whole team were amazing, joining in with enthusiasm and competitiveness, but also with a real sense of sportsmanship. Most of the children ran double their own race as they charged around the course cheering on runners in other events!
A special mention must go to Araliya for coming 10th in the Year 3/4 race (she is only Year 3) and Luca who came 23rd. We must also give Oliver a special mention as he came 29th in the Year 3/4 race even though he is only just in Year 2, and Freya who came 22nd, again she is only Year 2. This bodes well for the future!
Well done everyone for your amazing efforts. We are all so proud of you.
Keep on running, keep on running, keep on running...........and click here for all the photos.