Mothecombe's Residential Trip!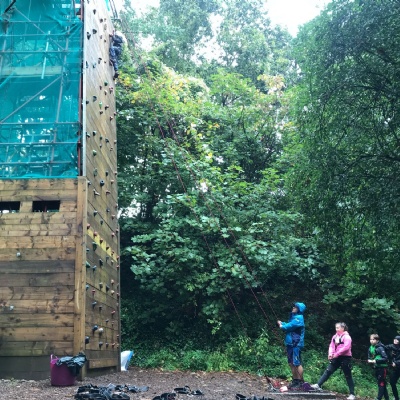 Last week, Mothecombe class spent two nights at Beam House.
For many children, this was their first time away from home. Leading up to the trip, we discussed positive emotions that we were feeling as well as the negative ones. On the day though, while waiting for the coach to arrive at Holbeton, there was nothing but excitement hanging in the air. Children's bags were lined up along the classroom - some of them seemingly two or three times the size of the child!
Finally, the coach arrived and we embarked. Upon arrival, we were greeted by our group leader who helped the children drag their mammoth bags to their rooms. And then we started on the activities that pushed us out of our comfort zone. We had to traverse an obstacle course, high above the ground where it was lovely to see children supporting each other and helping each other. We also had to make our way through a soggy, muddy obstacle course - splashing into the muddiest of puddles at the end of it. What a mess! After our activities, we'd worked up quite the appetite so it was lucky that we could go back up for seconds (or even thirds in some cases!) and help ourselves to an all-you-can-eat buffet of salad. That night, our activity was 'Passport to the World' in which children had to find the flags of other countries and answer increasingly difficult questions about them. After our busy first afternoon/evening at Beam House, children were ready for bed. They settled down for the night very quickly, wondering what our activities could be tomorrow.
Before breakfast the next day, we headed out to the basketball court to pass a bit of time. Here, our group leader introduced the children to a very catchy song. "Moose, Alpaca. Moose, moose, Alpaca...Unicorn!" If you haven't heard it yet, I'm sure your child will be more than happy to sing it to you. For breakfast, we had a lovely cooked breakfast that was chased down by cereal or yoghurt. Once sufficiently full, we had our first couple of activities - Aeroball (which was like a mixture of basketball and trampolines) and Trapeze. Of the two, Trapeze was the most nerve-wracking. Although the children were harnessed, it was scary climbing up the pole to the trapeze - especially when it wobbled slightly as you got towards the top. Some children didn't make it all the way but that was absolutely fine; that's not what these few days were about. Anyone who didn't make it to the top set themselves targets for the height that they would get to and then ended up breaking those targets. After we finished the activities and gobbled down a healthy serving of lunch, we attempted Street Surfing (on a two-wheeled skateboard) and Zipline. By this time, the children were growing in confidence and more children made it to the zipline, happily throwing themselves off the platform to zip towards the tree at the other end of the field. That evening, after a hearty dinner, we had a quiz night as the wind and rain had put a dampener on our plans for Ambush - a huge game of hide and seek outdoors. That said, the children loved it. Not only did they do brilliant against each other in the quiz but they took part in activities that made them work as a team like dressing a child up in toilet paper to make them look like a mummy and flapping a fish across the room...
Our final night was almost entirely silent. The children were absolutely exhausted and almost all of them slept through the night without stirring. The next day, they woke up a little more sluggishly than usual, trudging out of bed like tiny zombies. Luckily, they could muster enough energy for our final two activities - climbing (where most children made it to the very top of the climbing wall) and abseiling (which really tested the children's nerves but most did it). After these activities, it was time to climb onto the coach and head back to Holbeton.
The children had a fantastic time away. Although some children didn't complete every activity, they pushed their boundaries, set personal targets and gave it a go: invaluable life-skills. I hope that each child can look back at their time away from home and feel proud at all that they managed to achieve.
Over the next week, the children are writing recounts of their experience. Keep your eyes peeled because we'll post them here so that you can see exactly how they found it.
In the meantime, click here to view our gallery of pictures from the trip.